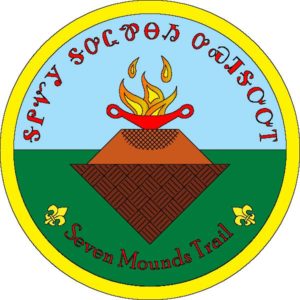 SEVEN MOUND TRAIL
CAMP BUCK TOMS
ROCKWOOD, TENNESSEE
The trail is for those who want to learn more about the Native Americans peoples who inhabited the area that makes up the Camp Buck Toms and East Tennessee.
Seven Mound Trail Guide TYPE, LENGTH AND SEASON OF TRAIL:
Scenic and Nature, ~5 miles, Open all year with exceptions noted in Council Calendar.
The trail must be hiked. (Physically challenged Scouts need not hike)
SEVEN MOUND TRAIL TEST
SEVEN MOUND EVALUATION FORM

REQUIREMENTS FOR HIKING TRAIL:
You must be a registered Scout, Explorer, Venturer, leader of the Boy Scouts of America, or accompanying family member.
At least one BSA registered adult must accompany any Scout Unit.
You represent BSA so wear your proper uniform.
Follow the Guide To Safe Scouting.
Follow the principles of Trek Safely.
Follow the principles of Leave No Trace (LNT) and The Outdoor Code.
STARTING/ENDING POINT:
Jane Manly Museum
POINTS OF INTEREST:
Seven Indian Mounds
Beautiful rolling hills
Rugged trail
CAMPING: Yes, you must complete and submit Camp Buck Toms Short Term Camp Permit Application, if the camping is not part of a scheduled camping event. This form is found on the Council website.
TRAIL MAPS AVAILABLE: Yes SEVEN MOUND TRAIL MAP
TRAIL WELL MARKED: Yes
TRAIL MARKER DESIGN:
There are numbered signs along the trail explaining the trail and the sites. The test questions will reference the trail sign that has the answer.
GUIDES AVAILABLE IF REQUESTED: No
SOMEONE TO MEET HIKERS AT STARTING POINT IF REQUESTED: Yes
AVAILABLE AWARDS: PATCH APPLICATION
Each participant must fill out his/her own questionnaire if capable.
Present a completed Trail Questionnaire for each patch requested.
FOR MORE INFORMATION CONTACT:
Great Smoky Mountain Council
Jane Manly Museum, Boy Scouts of America
1333 Old Weisgarber Rd
Knoxville TN  37909
Questions can be directed to janemanlyscoutmuseum@gmail.com