EVENT CANCELED–Toqua District Spring Camporee
May 1, 2020

-

May 3, 2020
EVENT CANCELLED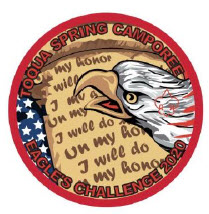 Location change:  Camporee to be held at Camp Buck Toms
Patrol Events
Venturing
OA Callout
Webelos Participation
"EVERYONE WELCOME"
---
Toqua Scouts, Venturers, and Adults,
Your camporee committee has been hard at work planning the next "Best Camporee Ever" for almost a year and all of the pieces are falling in place. We will be back at Melton Hill Park May 1-3. We have an awesome slate of events for everyone to enjoy. The theme this year is "Eagles Challenge 2020" so we are really trying to have older scouts and venturers lead the events with adult advising.
As a reward for all their hard work youth staff members will receive a staff shirt and most likely adults who help will be able to pre-order a staff shirt and purchase it for cost. We are looking for event staff and the list of events is below. We are planning to field the most events this year in quite some time. SO WE NEED YOU!!!. 2 of the 9 events have been staffed already. All events are scored 50% on the skill, 25% for Scout spirit, and 25% patrol method. Here are the events we need help with.
Events
Reactor Bell
A bell is suspended from a series of ropes and starts laying on the ground. The object is to move the bell using the ropes only from one point to another without ringing it. Scored on time.
Toxic Water Treatment
Patrols start at point A where a bucket full of water is located. They are given 3 balloons. The object is in relay fashion, 1 at a time, move as much of the water from the bucket at point A to a bucket at point B in a 90 second period using nothing but the balloons or hands. Scored on amount of water in the bucket.
Raise The Flag
Patrol is given 5 poles, lengths of rope, and a colored flag. The object is to lash the poles in to a tripod and then lash the flag pole to the tripod. This event is scored on the lashings and the height of the flag from the ground.
Minesweeper
This is a human puzzle event based on communication and the patrol method. It will be scored on time, patrol method, and Scout spirit. Patrol leaders guide scouts who can not see through a small maze. More detail to follow to the lead youth.
Brown Sea Turnaround.
Scouts start standing on a tarp. They all stay on the tarp at all times and turn it completely over. Scored on time.
Trolleys
Scouts in the patrol start of standing on cardboard squares, facing each other, one empty square in the middle.  Half of the patrol on each side.  The object is for everyone to always be standing on a cardboard square and go from facing each other to being on opposite sides. Scored on time.
Spiderweb
Patrol starts on one side of a net web suspended above the ground. It is divided in to segments or holes. Scouts pass through to the other side going through the holes without moving the rope web. Each hole can only be used once.
These are great events and we need your help to make them go smoothly. Leading groups will put together their own supplies and produce score sheets with any guidance needed but the events are all scored out of a possible 100 points. 50 for the skill, 25 for Scout spirit, and 25 for Patrol method. Help can be given wherever needed.
Toqua is great and strong because of everyone. It's going to be great.
Rob Farmer Toqua Spring Camporee Chairman