EVENT CANCELED–Toqua District Weboree
May 1, 2020

-

May 3, 2020
EVENT CANCELED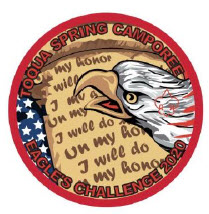 TOQUA DISTRICT WEBOREE 2020
MAY 1-3
WEBOREE Rules and Information 2020
An official troop visit event held in conjunction with the 2020 Toqua District Camporee.  Come and practice being a part of a Scout BSA troop!  Check out troops you may want to join, compete for the Webelos/AOL Patrol Award, work on advancements and prepare meals in the great outdoors.
Current Bear Scouts (rising 4th grade) must provide one parent/guardian per Scout.
Current Webelos and Arrow of Light Scouts may attend with one parent/guardian per Scout or camp as a den if leadership is provided with a minimum of 1:4.
If you wish to register as a Webelos den, contact Shawn Johnson at shawn.scott.johnson@gmail.com  or 865-208-2335.