Prepared. For the Future.
As a part of our council's normal strategic planning cycle, the Great Smoky Mountain Council's Executive Board appointed a Council Alignment Study Committee in September 2019.  Since that time, Heath Hildreth, GSMC Vice President of Strategic Planning, led a committee of 40+ diverse and seasoned volunteers.  Key leadership from every district were invited to be a part of this important process. This year-long process culminated at the September 15, 2020 Executive Board meeting and will position us to provide our programs equitably across the 21 counties we serve in of East Tennessee.
The Council Alignment Study Committee's unanimous recommendation on how to best provide a quality program to all Scouts throughout the Great Smoky Mountain Council was presented and approved by both the council's officers and the executive board on September 15, 2020.
The decision was not an easy one, but one that was made from necessity to ensure that Scouting continues to thrive with outstanding programming and exceptional unit service throughout the Great Smoky Mountain Council.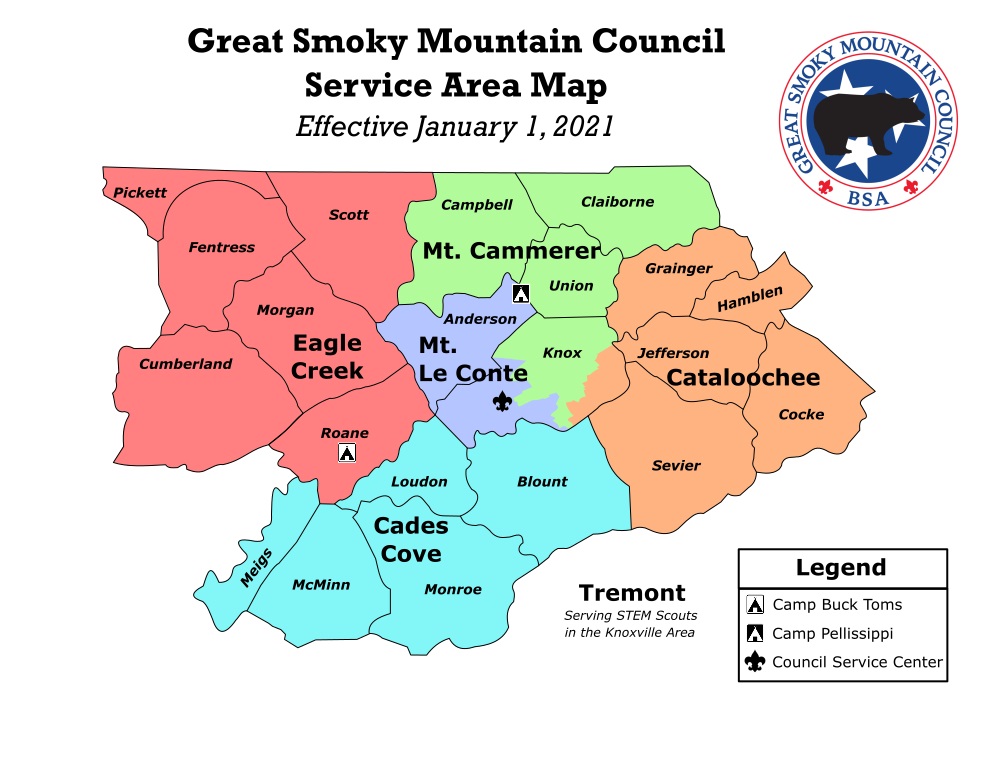 Frequently Asked Questions
Why was this done?
Every 3 to 5 years, all local BSA councils go through a strategic planning process.  Each process should ask the question: "Are we best structured to serve the greatest number of families and provide the highest quality program?"
During the Council Alignment Study Committee's first meeting this question was posed, and it was a unanimous decision to move the study forward.  Keep in mind, this was prior to the beginning of the COVID-19 pandemic.
 So, what does a Council Realignment do?
The purpose of a local Boy Scout council and its districts is one thing – to serve the units in its geographical boundaries, its Scouts, families, and leaders with the highest quality program.  A council realignment reprioritizes the way that is done.  We hope that this realigned structure will provide higher quality district committees, commissioner staffs, camporees, day camps, and OA chapters for our units.  This process realigns us on the most important reason we are all here …. the Scout.
Is this effective immediately?
No.  The new structure will be effective on January 1, 2021.  This will provide time to go through the fall recruitment season and allow district nominating committees the time needed to recruit leadership at the district-level.
How were district boundaries selected?
The primary objective was to make Scouting's programs both accessible and equitable as much as possible across all 21 counties of East Tennessee.  The committee considered square mileage, the number of Total Available Youth, Scouts, volunteers, units, elementary schools, district leaders, and financial history of each county.  They also considered natural communities, geography, highways, interstates, and time zones.
How were the district names chosen?
A small committee of volunteers was recruited to review the suggestions submitted for new district names.  None of the existing names were maintained in order to give the new districts a fresh start and an equal chance to serve the greatest number of families and provide the highest quality program.  Two of the 30+ submissions quickly rose to the top.  The submission finally selected was by Don Miller.  His suggestion was to name the districts after areas in the Great Smoky Mountain National Park.
What's my new district? (click here)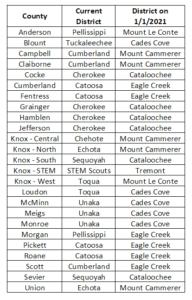 Who is my District executive?
With realigning the council from 11 to 6 districts, this allowed changes in our field management team.  Derek Brawner will continue to serve as a Field Director.  The vacant Field Director position will now be a Program Director working with Mark Janeway, our Director of Support Service, to provide the highest quality program across the council.  The below list will take effect on January 1, 2021.
Cades Cove Sr. District Executive – Austin Abee
Cades Cove District Executive – Geoff Cusick
Cataloochee Sr. District Executive – Russ Patterson
Cataloochee District Executive – Vacant
Eagle Creek District Executive – Anthony Spencer
Mount Cammerer District Director – Anthony Ingram
Mount Cammerer District Executive – Chris Hargis
Mount Le Conte District Director – James Gaddis
Mount Le Conte District Executive – Patrick Finn
Tremont District STEM Executive – Vacant
Director of Field Service / COO – Nathan Cunningham
Field Director – Derek Brawner
Director of Support Services – Mark Janeway
Program Director – Jeff Smith
Director of Development – Neal Drown
Scout Executive / CEO – David Williams
Why are the districts so big?
Four of the six districts will be two-person districts.  This was designed to provide leadership opportunities to seasoned field staff while retaining our best and brightest.  It also was designed to not leave districts without an executive and maintain continuity of service to our units, whenever possible.
Was this budget driven?
No.  There was no objective to eliminate any employee's role.  As the structure came together, it became evident that some staff roles could change to better serve our units and families.  No staff member has left our employment due to this process.
Do you have more questions?
Please send them to Mark.Janeway@scouting.org. We will answer them and add them to the list.