2023 National Jamboree Staff patches
Pre-opened for 10 days at a discounted price / from May 19 – 28, 2023. After that the general sales page will be open to the public.
This trading post site is being made available ONLY to those who are staffing the 2023 National Scout Jamboree from the Great Smoky Mountain Council. If you don't meet this requirement, please do not make a purchase.
If you don't meet this requirement and continue to make a purchase, your order will be cancelled and a 25% administration fee will be withheld from your purchase.
Our designs offer you a set of patches that represent every National Jamboree and World Jamboree held or cancelled in the United States. We are grateful to the World Organization of the Scout Movement (WOSM) for granting us a non-commercial license that allows us to give away the 2019 World Jamboree patch.
Set 5
Contingent/ Staff (mylar border)
Staff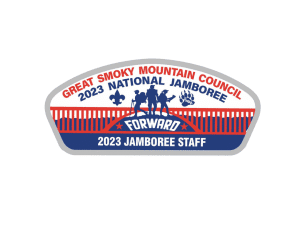 Lodge Flap