---
New to Scouting? Our knowledgeable staff is here to help you select uniforms and accessories, literature, and other necessities. If we don't have it on the shelf, we'll help you find it at www.scoutshop.org and have it shipped to the Scout Shop for free. We also ship to your home.
Remember that when you purchase your Scouting gear at the Knoxville Scout Shop, you help the Great Smoky Mountain Council. Please let us be your supplier of choice for everything you need to make your Scouting experience memorable.
TO KEEP TRACK OF PROMOTIONS AND SAVINGS, STAY TUNED TO OUR FACEBOOK PAGE >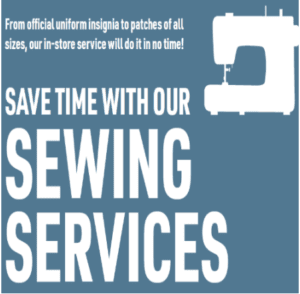 Don't like to sew? Let us do it for you! Charges start at $4.00 per patch, and orders are estimated to be ready in three days. Hemming $15.
But remember that Knoxville Scout Shop staff are always happy to help you find the right apparel and insignia.
Location
The Knoxville Scout Shop is located in the Great Smoky Mountain Council headquarters at:
1333 Old Weisgarber Rd
Knoxville, TN 37909
CONTACT THE SHOP
(865) 588-1940
STORE Hours
Monday-10AM-6PM


TuesDAY-10AM-6PM
Wednesday-10AM-6PM
THURSDAY-10AM-6PM
FRIDAY-10AM-6PM
SATURDAY-10AM-2PM
Closed Sunday
For your convenience, we are open on select holidays. Please visit our Facebook page or give us a call for details on extended fall hours, holiday hours, and weather-related closings.