FOR NEW PARENTS
Councils, Districts, Packs, Troops and Crews:
How Scouting is Organized
---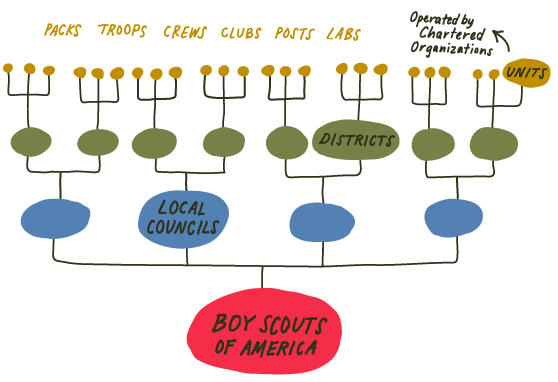 The structure and organization of Scouting can get confusing. Here's a simple explanation.
The BOY SCOUTS OF AMERICA is the national umbrella organization. Under that, there are 272 LOCAL COUNCILS, including the Great Smoky Mountain Council. Within each council there are several DISTRICTS. The Great Smoky Mountain Council has 10 of them.
Within each of the districts are numerous individual UNITS. Each unit is operated by a "chartered organization" — a community organization, school, or religious institution. For example, your local church might choose to establish a Cub Scout Pack and a Scouts BSA Troop.
Cub Scouts units are called Packs. Each Pack is divided into smaller units called Dens. Each Den is made of six to eight boys of the same age and rank. In other words, in a single Den, all the Cub Scouts will be Tigers, for example, or Bears or Webelos. The uniformed adult leader of a Cub Scout Pack is called the Cubmaster, while Den Leaders are responsible for individual Dens.
Scouts BSA units are called Troops. Troops vary widely in size, from less than 10 members, to as many as 100 or so. Troops are made of Patrols, which are tight-knit team of five to eight members. The uniformed adult leader of a Scouts BSA Troop is called a Scoutmaster. Patrols are led by Scouts who are elected by the members of the Patrol.
Venturing units are called Crews and are not subdivided into smaller parts.
Okay,
Sign Me Up!
Your child can join Scouting anytime, although units typically recruit new members near the beginning of the school year. If you're not already aware of a unit serving your neighborhood,
visit beascout.org to
FIND A PACK >
FIND A TROOP >
FIND A CREW >
visit exploring.org to
FIND A CLUB/POST >
visit stemscouts.org to
FIND A LAB >
or give us a call at the council service center and we'll be happy to connect you. 
865-588-6514