Camp Pellissippi
The Great Smoky Mountain Council's primary camp until the 1970s, Camp Pellissippi lies on the shores of Norris Lake near Andersonville. Today, Pellissippi is a rustic camp with five cabins and numerous tent sites available year-round. The camp features a campfire area, parade field, trading post, stage area, shooting range and much more. The council's popular Winter Camp is held at Camp Pellissippi in late December.
Camp Pellissippi offers five cabins and five campsites accommodating more than 300 Scouts and leaders.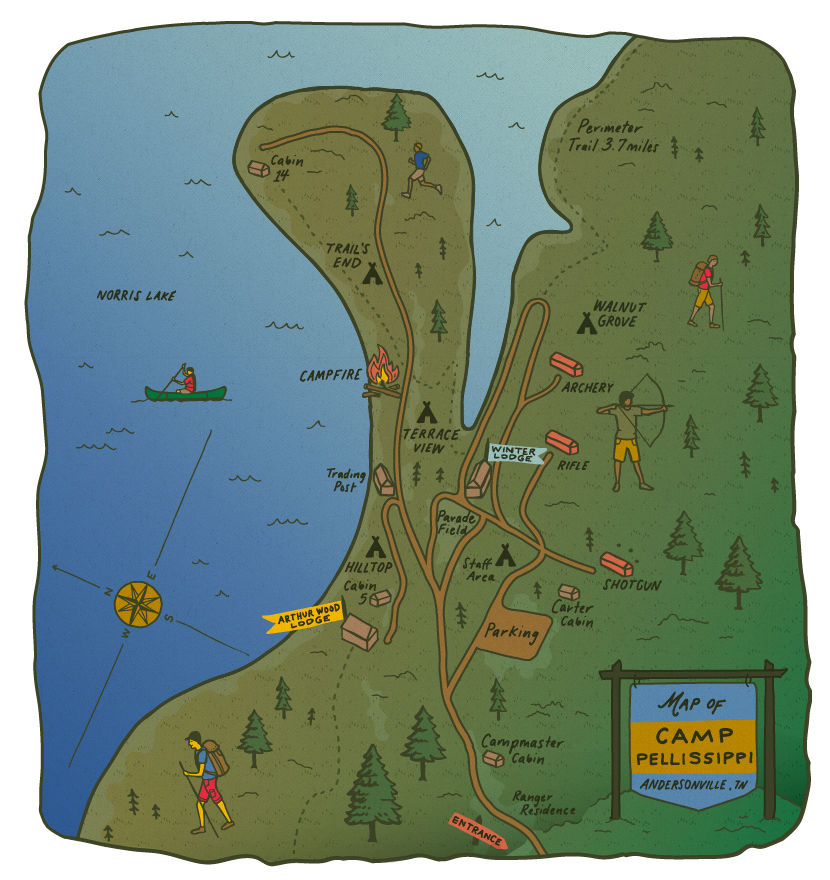 Short Term Camping
Winter Camp
Camp Pellissippi is the site of the Great Smoky Mountain Council's popular Winter Camp, held annually between Christmas and New Years. An out-of-the-ordinary adventure for hardy Scouts, Winter Camp brings together Scouts from across the council for fellowship, fun, adventure, and what can only be described as Best. Camp. Food. Ever.
During the days, Scouts can explore the winter woods on "morning warrior hikes," participate in a variety of activities, and work toward some 40 merit badges. On two evenings, Scouts come together for campfire programs featuring skits and songs.
Scouts and troops that are not able to attend the full Winter Camp can register for single days. Single-day participants check in at 8:30 a.m. and finish their day at 3 p.m. Single-day registration includes lunch. Scouts who want to arrive early for breakfast or stay late for dinner may pay a small additional fee for each meal.
LOCATION
262 Boy Scout Camp Road
Andersonville, TN 37705
CABINS
WINTER LODGE
sleeps 30
features electricity, a fireplace, kitchen, and restrooms
ARTHUR WOODS LODGE
sleeps 30
features electricity, a wood-burning stove, kitchen, and adjacent bolos (pit latrines)
CARTER CABIN
sleeps 30
features a wood-burning stove and a loft
CABIN 5
sleeps 12
features electricity
CABIN 14
sleeps 30
features electricity, a kitchen, and restrooms
Campsites
OLD STAFF AREA
30 capacity
in a combination of Adirondacks and tents
HILLTOP
30 capacity
in tents on platforms
TRAIL'S END
30 capacity
in a combination of Adirondacks and tents
TERRACE VIEW
30 capacity
in Adirondacks
WALNUT GROVE
30 capacity
Also available for use are TWO PAVILLIONS with capacities of 25 and 50, respectively, a TRADING POST, and a SHOOTING RANGE.