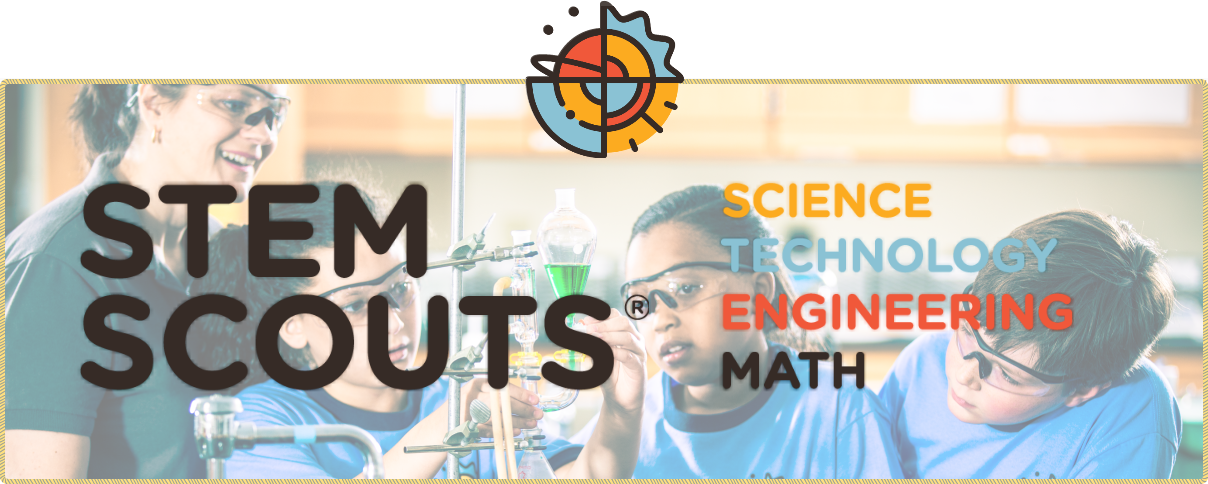 SHAPE * TINKER * EXPLORE * MAKE
The STEM Scouts® program aims to teach young people to show leadership, display confidence, realize their skills, respect others' opinions, become problem solvers in all aspects of life, look for opportunities to serve others, demonstrate good citizenship and show integrity.
CITIZENSHIP
» Each meeting begins with the Pledge of Allegiance.
» We integrate Character Development and our Innovator Moments into each lesson which shows that everyday people can accomplish extraordinary things, conduct themselves honorably and put others ahead of themselves.
FITNESS
» Mental fitness is encouraged through critical thinking, creativity and problem solving.
» Though mostly centered around mental and emotional fitness, physical fitness, or a healthy lifestyle, is also embedded in the program.
CHARACTER
» Each meeting includes the Scout Oath and Law. At least one, but usually two or more points of the Scout Law are related to the topic studied.
» Values are explicitly included in the leader's guide.
JOIN US
Join us as a volunteer or teach a Lab lesson. Sponsor a Lab unit through your organization. Spend time with some interesting students and help them explore the world around them in new ways.
LEARN BY DOING
Use hands-on experiments to explore new ideas and technologies.
DEVELOP SKILLS
Be creative, develop your leadership, problem-solving, teamwork and communications skills.
BUILD A CAREER
By year 2029, STEM careers are projected to increase by a total of 8%, more than double non-STEM careers. And the average STEM salary will be over double the average non-STEM career.*
PREPARE FOR THE FUTURE
Increase your chances for college scholarships and develop the skills to change people's lives.
VOLUNTEER-LED PROGRAM
We're looking for volunteers, both with and without experience in STEM fields. Lab managers and other volunteers don't need all the answers, just an enthusiasm for working with curious young minds. We'll provide all the training. Trained leaders and S.T.E.P. (short-term, experienced professional) volunteers guide students through hands-on experiments and activities during each four-week learning module.
SPONSORING ORGANIZATIONS
STEM Scouts depend on Sponsoring Organizations, such as corporations and parent or community groups, to sponsor Labs and help recruit coed volunteers. The organization should encourage summer camp opportunities and interaction with STEM Professionals in order to provide an inside look into how STEM skills are used in business and industry. Labs meet at a regular time and place.
FOR ANY QUESTIONS, PLEASE CONTACT ANGEL.RYKER@SCOUTING.ORG OR CALL HER AT 865-454-7799
EVENTS AND LAB ACTIVITIES
STEM Discovery Day
Previously our PI Day event, The Great Smoky Mountain Council will plan an annual event during National Engineering Week to offer youth more fun STEM opportunities.
STEMology Summer Day Camp
STEM Scouts partners with the University of Tennessee Tickle College of Engineering to offer a fun way for youth to get involved in STEM activities for an entire week in a summer camp program setting.
Service Projects
Labs may participate in food drives, conservation projects, river clean up trips, or other community activities.
Field Trips and Special Outings
Great ways to learn more about the people and places in your community. Ex: science museums, planetariums, parks, zoos, STEM businesses, and factory tours.