Special Needs Scouting Open House
October 7 @ 10:00 am

-

2:00 pm

EDT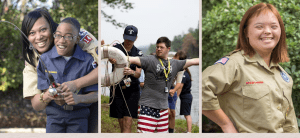 Have a child with special needs and think Scouting is not for your family? Come join us for a free Open House to learn how Scouting is inclusive for all abilities and have the opportunity to speak directly with select Scouting unit leaders.
We'll be at the Scout Service Center (1333 Old Weisgarber Road, Knoxville, TN 37909) from 10am-2pm.
Click HERE to register
BSA Inclusion Philosophy
Since its founding in 1910, the Boy Scouts of America has included fully participating members with physical, mental, and emotional disabilities. The Boy Scout Handbook has developed Braille editions. Merit badge pamphlets have been recorded on audio for Scouts who are blind. Closed caption training videos have been produced for Scouts who are deaf. In 1965, registration of overage Scouts with intellectual or developmental disabilities became possible—a privilege now extended to many Scouts with disabilities.
The basic premise of Scouting for youth with special needs and disabilities is full participation. Youth with special needs are to be treated and respected like every other member of their unit. They want to participate like other youth—and Scouting provides that opportunity.  Providing the Scouting program to those with disabilities means that we have an ongoing process to educate unit leaders how to adapt their methods and how to create healthy, safe, empathetic environments for all of their Scouts, both with and without special needs.  It also means actively encouraging inclusion of Scouts with special needs and disabilities into "mainstream" or "traditional" Scout units like Cub Packs, Scout Troops, Venturing Crews, STEM Scouts, Sea Scout Ships, and Exploring Posts.
While it is usually best to include Scouts in regular units, there are situations where that is not the best solution for a Scout with a disability.  BSA also supports Scout units where all the members have a similar disability—such as a Scout troop for Scouts who are blind or a Cub Scout pack for Scouts who are deaf. Many of these disability-specific Scouting units are chartered to schools or centers for youth with a particular type of disability that make the Scouting program part of their curriculum.  These Scout units are encouraged to participate in Scouting activities at the district, council, area, regional, and national levels along with other traditional units.
When it comes to specific activities, our goal is to allow a youth with a disability to participate to the maximum extent possible in the same way, place, and time as everyone else.  Even when adaptations or accommodations are needed, we want to have everyone sharing the experience together.  In our experience, youth are often able to do more than is expected of them, when they are given a chance.
In order to encourage positive, inclusive experiences for all youth in Scouting, especially those with different abilities or challenges it is necessary to define "inclusion". It is almost as if the Scout Oath and Law created the concept of inclusion. There are several definitions of inclusion, but one that truly resonates comes from Paths to Inclusion: A Resource Toolbox for Fully Including Youth of ALL Abilities in Community Life:
An attitude and approach that seeks to ensure every person, regardless of ability or background, can meaningfully participate in all aspects of life.
Inclusion is an approach, not a program. It is an attitude, not an activity.
How Scouting Benefits Youth With Special Needs and Disabilities
By definition, a disability is an impairment that substantially limits one or more major life activity.  A special need makes a life activity substantially harder than it is for most people.  When a major life activity is impaired, a youth is at risk of being left out or isolated from our society.  Some special needs make it hard to communicate or interact with others.  Others create odd behavior that doesn't easily mesh with the social order.  Other disabilities require equipment or assistance that makes one move slower or fall behind the group.  A few disabilities make one look odd to others.
For most youth with disabilities, their primary opportunity to interact with their peers is at school.  Even then, their special needs can entail many hours outside the regular classroom to give them their needed therapies and educational supports.  Outside of school, there are few extracurricular opportunities for youth with special needs or disabilities to participate like everyone else.  Scouting is a somewhat rare exception. In Scouting a youth with a special need can participate on an equal (or near equal) footing with everyone else.
For the most part, individuals with special needs or disabilities learn good social and life skills when they're able to bond with peers their own age. Their friends become role models of good behaviors. Their self-esteem and confidence begins to build when they feel a sense of belonging. Tasks they once felt were difficult or impossible become manageable. In Scouting, positive results can be seen as a youth with a disability starts to advance in rank and take on leadership positions. Genuine praise given to a Scout who has a special need can be very powerful.
While Scouting was not invented specifically for those with different abilities, from its founding it has been an inclusive movement and based on a belief that no matter what culture or economic class a boy came from, he had similar needs to mature into a good citizen, and that people from all classes and culture should be part of one brotherhood.  Obviously as the decades have passed, our language has changed and the Scouting movement has broadened its perspective to include many other aspects of diversity.  Though it was not called that in the language of the day, ability diversity was one of the earliest initiatives in this regard, though we now include gender, ethnic, economic, and orientation diversity as well.
The Scouting program provides experiences and opportunities for youth, including those with a disability, to try and experience things outside their normal life routines.  They also encounter people they would not otherwise know in person. We know from experience that this builds confident, resourceful, good-hearted adults.  The program is flexible enough to allow Scouts to attempt a challenge when they are ready, rather than on a fixed timetable.  It also allows them to take as many tries as they need to in order to succeed.  The truth is that all of us as human beings have a varying set of abilities and are stronger in some than in others.  A Scout with a "diagnosed" disability could easily have an "undiagnosed" super ability as well.
Every youth should have a chance to become his or her best self.  Scouting is committed to this ideal and seeks to have every youth have the opportunity to be a Scout.
How Youth With Special Needs Benefit Other Youth
Man's mind, once stretched by a new idea, never regains its original dimensions.
Oliver Wendell Holmes
It is as important for typically developing youth to experience friendships with those with special needs or disabilities as the other way around.  It is simply impossible to see a person with a "label" or a difference in the same way when you have walked in each other's shoes and shared the same challenges.  The presence of those with special needs provides an opportunity for others to practice serving.  Service is like a muscle.  If it is exercised, it grows stronger.  While Scouting is fun and games for our youth, our higher purpose is to make better people out of them when they are adults.  We want that culture of cheerful service to be ingrained in them from now on.  Exposing them to people who are different from themselves is part of the process.