Summer Family Camp Weekend for Cub Scouts
July 7 @ 5:00 pm

-

July 9 @ 12:00 pm

EDT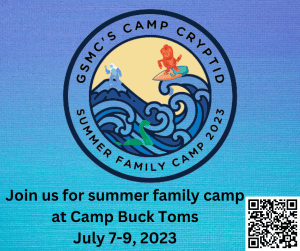 Welcome to Camp Cryptid – the Great Smoky Mountain Council's summer family camp for Cub Scouts!
Camp Cryptid is a fun weekend dedicated to those mysterious creatures that many have claimed to have seen in the wild, but that we don't have photographic evidence of – Bigfoot, the Yeti, the Loch Ness Monster, and more!
Enjoy a holiday themed atmosphere in the Buck Toms dining hall where the Yeti is bringing winter festivities to July, swim in Watts Bar Lake and see if you find evidence of Nessie, and build your tracking skills as we look for evidence of Bigfoot in the surrounding woods.
Scan the QR code or click HERE to register!
QUESTIONS: CONTACT MIC.MULLINS@SCOUTING.ORG