KNOXVILLE HISTORIC TRAILS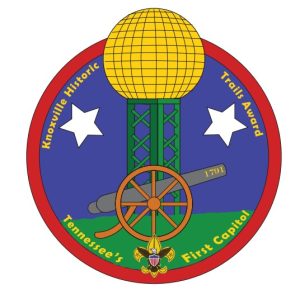 The Knoxville Historic Trails were originally developed in 1974 by Steve Bynon, Troop 20 as his Eagle Scout project. It was revised in 2006 by Walter Lynn Bates as a project of the Piedmont- Appalachian College of Commissioner Science, Boy Scouts of America. The trail is sponsored by the Great Smoky Mountain Council, Boy Scouts of America, Knoxville, Tennessee. The trail has been developed for the benefit of scouts and others who may have an interest in learning about Knoxville's role as the "Crossroads of America's Early Frontier." The trail focuses on the development of Knoxville and its role in. southern and national history.
 Trail Description
The trail is designed as a hiking loop through downtown Knoxville. The trail begins and ends at James White Fort, so hikers may park at the fort and conveniently return to their vehicle upon completing the hike. The trail is designed so each group can personalize their visit to Knoxville. The main downtown loop is two miles long. This loop contains a number of museums and historical buildings, which can be toured. These will be described in the hiking directions. There are three optional hiking loops– the Fort Dickerson Loop, the University of Tennessee/ Fort Sanders Loop, and the Old City Loop-­ that can be added to the main trail as desired and as time allows each group. Each of these loops has special features and historical significance. Groups should consult the individual loop descriptions for distances, route conditions, and directions. Historical information is also provided for the hiker's benefit.
Questions can be directed to: janemanlyscoutmuseum@gmail.com